Electro, Electronics, Energy
On this page, you will find current information about our products and news regarding the electro, electronics and energy markets.
Based on our technical competence, customer-specific advice and close relationships with well-known suppliers, we will identify the right product for you, tailored to your needs. Depending on the application, we advise you from the initial design phase through to series production. Our technical sales teams are also available throughout Europe.
Our portfolio includes*:
*Availability of products may vary from country to country. Should we not be the distributor for your country, we will gladly forward your inquiry to the responsible manufacturer.
Hot Topic: Optically Clear LED Encapsulant
Ease of processing with DOWSIL ™ EI-2888
DOWSIL™ EI-2888 is a two-part silicone product that offers excellent environmental resistance for usage in outdoor displays, explosion-proof lighting and, in particular, for the encapsulation of flexible and rigid LED strips. This easy-to-process, optically clear silicone cures at room temperature with a gel-time of 8 hours and a pot life of 130 minutes at 22 °C. There is also no need for primers, as it activates surfaces with a self-priming effect on a wide range of substrates. Even deep-section curing with this material is possible, as it contains its own source of moisture. The product properties also allow automated (static and dynamic metering) or manual mixing by pouring or needle dispensing.
Contact us for more information or download the technical data here.
Hot Topic: Thermally Conductive Materials
Thermal Management with DOWSIL™ TC-4605 HLV Thermally Conductive Encapsulant
With our portfolio of thermally conductive materials from DOW™, we offer the best solutions for thermal management, meeting the highest demands of the industry. The 1:1 two-part silicone DOWSIL™ TC-4605 HLV encapsulant is designed for use in electric motors or PCB system assemblies. It cures within one hour at 120 °C and offers long-lasting and homogeneous thermal conductivity of approx. 1 W/mK at a wide range of operating temperatures.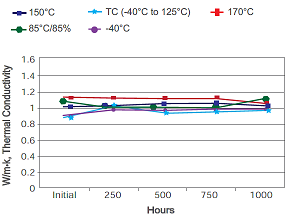 This low viscosity silicone elastomer is easy to use and provides excellent adhesion to aluminium substrates. Interested in more technical data? Please download the technical data sheet here.
Electronic modules are getting smaller every day, which is increasingly challenging when it comes to thermal management. With our know-how and experience in the field of thermally conductive materials, we offer you an overview of Dow's vast portfolio for Thermal Management. Contact us or download the Thermally Conductive Material Selection Guide here.