Adhesives
On this page, you will find current information on our products and news about ready-to-use adhesives.
With our technical competence and close relationships with well-known suppliers, we will find the right product for you. Depending on the application, we advise and guide you right from the first idea through to series production. Our technical sales teams are also on-site throughout Europe.
Our portfolio includes*:
*Availability of products may vary from country to country. Should we not be the distributor for your country, we will gladly forward your inquiry to the responsible manufacturer.
Hot Topic: DOWSIL™ EA-3838 Fast Adhesive
Increase Your Throughput in a Sustainable Way
The new DOWSIL™ EA-3838 Fast Adhesive from DOW provides advanced, early primerless adhesion to many substrates, resulting in much shorter cycle times. Because fast curing is achieved without the need for ovens, you can increase your productivity while decreasing your energy consumption. The adhesive is the perfect solution for the appliances industry and sectors such as automotive electronics, lighting and aerospace, including all applications in which reliable, strong and flexible bonds are required.
The adhesive reaches a lap shear strength of about 0.5 MPa in 10 minutes, developing to almost 1.0 MPa with 100% cohesive failure on substrates like glass and stainless steel after 30 minutes, as shown in figure 1. The final tensile and lap shear strength of the adhesive is over 1.5 MPa and 1.4 MPa respectively, depending on the substrate. For more information about lap shear strength on different substrates, please download the technical data sheet here.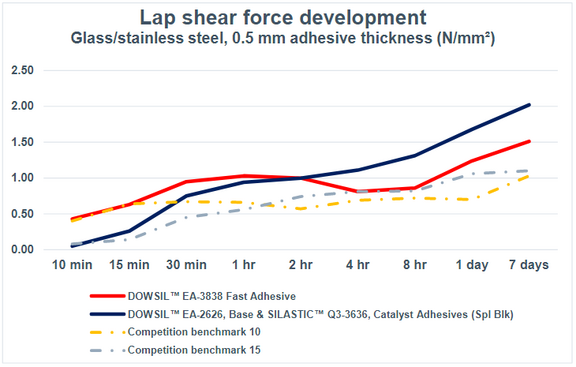 Even after long-term use at 180 °C, the adhesive performs with a lap shear strength of over 1.2 MPa, as shown in table 1, making it a perfect solution for metal-to-glass bonding in ovens.
Heat Resistance at 180 °C

DOWSIL™ EA-3838 Fast Adhesive

Storage at 180 °C

Lap Shear [MPa]

Elongation [%]

Cohesive Failure [%] Glass/Steel

0 days

1.5

310

100 / 100

7 days

1.2

324

100 / 100

21 days

1.35

354

100 / 100

42 days

1.2

315

100 / 100
DOWSIL™ EA-3838 is a two-part non-corrosive adhesive with a neutral alkoxy cure mechanism and a shelf life of up to 12 months. It is easy to apply (with manual and automated dispensing), is available in dual-cartridge kits, pails and drums and has a variable volumetric mixing ratio from 2:1 to 4:1, if a longer open time is needed. DOWSIL™ EA-3838 is mainly used in appliances, such as refrigerators and washing machines, that require reliable bonding of door gaskets or glass components, but it also displays its strengths in automotive interior and general industrial bonding and sealing.
For more detailed information about DOWSIL™ EA-3838 Fast Adhesive, contact us directly or see the webinar below on Faster Assemblies at Room Temperature from DOW.
SpeedMasks increase your productivity
UV adhesive cures in seconds. Our UV adhesives are solvent-free, halogen-free, and recommended for very fast production or production requiring long preparation and rapid finishing. The new technology of temporary masking makes it possible to automate processes in the aerospace, metalworking and medical device industries. SpeedMask products are the ideal replacement for adhesive tapes, wax and topcoats with the potential for enormous savings. They come with the necessary approvals for the aerospace and medical industries: Rolls Royce approval for spray metal masks (maintenance of engines), cytotoxicity according to ISO 10993-5.
Advantages of SpeedMask® Maskants for Surface Protection