17.04.2019 | Biesterfeld Spezialchemie GmbH
Colour meets Science: BSC customer seminar about cosmetics trends
For a smooth complexion, accented lips or sparkling eyelids - decorative cosmetics are a crucial tool if you want to have a flawless appearance and make a visual statement at the same time. Consumers are demanding more and more products that withstand even extreme conditions, such as a long day at work or a session in the gym. In response to these demands, Biesterfeld invited customers from all over Europe to a two-day seminar in Berlin. Apart from the Biesterfeld experts, the partners DOW, DuPont Industrial BioSciences, IOI Oleochemicals, Kao Chemicals, Kahl Wax, Nouryon and Sandream Impact, as well as Dr Andreas Steinle of the Zukunftsinstitut in Frankfurt, presented the newest developments in the field.
On both days, the participants were given detailed insights into the latest trends in colour cosmetics, such as nail polish, lipstick or make-up primer, as well as innovative products and formulations created to meet these trends. For example, consumers are asking for more and more long-lasting products that guarantee a flawless complexion or stay on the lips even after sports. When it comes to nail varnish, neon colours and transparent polishes are in vogue this year. In his presentation, Dr Andreas Steinle from the Zukunftsinstitut talked about current megatrends, such as digitalisation and customisation, as well as social change and its influence on cosmetics.
"It was nice to see how our customers shared their opinions on the latest products and formulations," says Bettina Heick, Business Manager LifeScience at Biesterfeld Spezialchemie. "We will certainly repeat the same format next year."
Contact person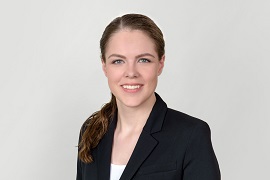 Manuela Nehrke
Corporate Communications Specialist
Show phone number
Send E-Mail