Soap Noodles
Palmosalt®
Product description
Palmosalt® products are soap noodles which are used in various applications as cosmetics and detergent manufacturing. Soap noodles are the sodium salts of natural fatty acids. Several qualities are forming the soap base in different applications.
KLK OLEO and Biesterfeld Spezialchemie are member of the RSPO. Please contact us regarding certifications like Mass Balance (MB).
More products available upon request.
| Tradename | Chemical Description | CAS |
| --- | --- | --- |
| Palmosalt® 9383 | Soap Noodles | 61790-79-2, 61789-89-7 |
| Palmosalt® 9259 | Soap Noodles | 61790-79-2, 61789-89-7 |
| Palmosalt® 9238 | Soap Noodles | 61790-79-2, 61789-89-7 |
| Palmosalt® 9218 | Soap Noodles | 61790-79-2, 61789-89-7 |
| Palmosalt® 9242 | Soap Noodles | 61790-79-2, 61789-89-7 |
| Palmosalt® 9240 | Soap Noodles | 61790-79-2, 61789-89-7 |
| Palmosalt® N3021 | Soap Noodles | 61790-79-2, 61789-89-7 |
| Palmosalt® 9220 | Soap Noodles | 61790-79-2, 61789-89-7 |
| Palmosalt® N3020 | Soap Noodles | 61790-79-2, 61789-89-7 |
| Palmosalt® N3060 | Soap Noodles | 61790-79-2, 61789-89-7 |
| Palmosalt® N2031 | Soap Noodles | 61790-79-2, 61789-89-7 |
| Palmosalt® N0061 | Soap Noodles | 61790-79-2, 61789-89-7 |
Supplier

Tradename(s)
Palmosalt®
Other products from KLK Oleo portfolio
Contact person
Dominik von Borstel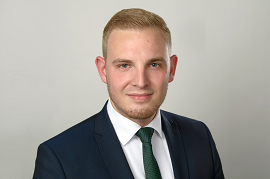 Product Manager Essential Chemicals
Show phone number
Send E-Mail