Silicone Coating & Lubricants
Product description
Most parenteral packaging components (e.g. needles, syringes, stoppers, vials, etc) or medical devices require the use of some form of surface treatment or lubrication in order to improve their processability and functionality. We can offer a comprehensive range of high quality siliconisation materials.
Non-Curing Siliconisation Fluids are applicable for syringes, vials, ampoules, stoppers, filaments and medical device components.
Curing Siliconisation Fluid are lubricants for cutting edges, hypodermic needles and cannulas.
| Product | Description |
| --- | --- |
| Dow Corning™ 360 Medical Fluid 20, 100, 350, 1000 and 12500 cSt | Non-curing, hydrophobic coating, Polydimethylsiloxane |
| Dow Corning™ 365 35% Dimethicone NF Emulsion | Non-curing water dilutable Emulsions containing 35 % of Dow Corning™ 360 Medical Fluid 350 cSt, non-ionic emulsifiers and preservatives |
| Dow Corning™ 366 35% Dimethicone NF Emulsion | Non-curing water dilutable Emulsions containing 35 % of Dow Corning™ 360 Medical Fluid 350 cSt, non-ionic emulsifiers and preservatives |
| Dow Corning™ MDX4-4159 50% Medical Grade Dispersion | 50 % dispersion of an amino functional dimethylsiloxane copolymer, cures at room temperature to form a dry coating |
| Dow Corning™ Q7-9180 Silicone Fluid 0.65cSt and 1.0cSt | Hexamethyldisiloxane and Octamethyltrisiloxane, solvent for Dow Corning™ 360 Medical Fluid and MDX4-4159 50% Medical Grade Dispersion |
Tradename(s)
Dow Corning™
Country availability
Austria, Belgium, Bulgaria, Croatia, Cyprus, Czech Republic, Denmark, Estonia, Faroes, Finland, France, Germany, Greece, Hungary, Ireland, Italy, Latvia, Lithuania, Luxembourg, Malta, Netherlands, Poland, Portugal, Romania, San Marino, Slovakia, Slovenia, Spain, Sweden, United Kingdom, Vatican City
Contact person
Robert Radsziwill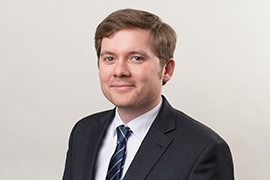 Product Manager Medical Device
Show phone number
Send E-Mail